OptiMate CABLE O-02
MSRP $21.95
Fits both auto and bike sockets
Trusted by OEM's Honda, Triumph, Suzuki and Yamaha
Inline 8A fuse protects against potential short circuits
Secure locking clips – vibrations proof
Low temperature use -20°C/-4°F – Remains Flexible!

More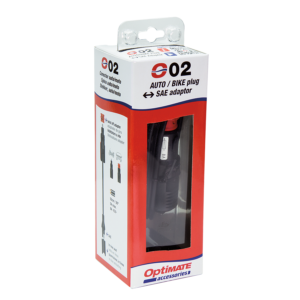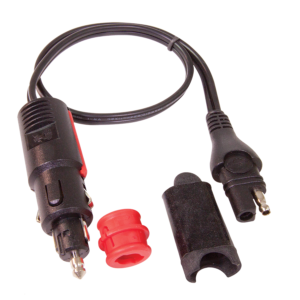 BUY
MSRP = Manufacturer Recommended Retail Pricing. Price in EURO and GBP include VAT of 20%. VAT in your region may differ. Price in USD and CAD do not include sales tax.
Specifications
Plug with twist off adapter, fits Ø12mm BIKE/DIN or Ø21mm AUTO sockets, power delivered through an industry standard 2-pole SAE connector.
LENGTH: 20″/50cm
CONNECTORS: Ø21mm AUTO socket / Ø12mm BIKE Plug to SAE
CABLE RATING: 18AWG (0.82mm2) SPT-2
FUSE: 8 Amp (inside connector)
USE: -20°C/-4°F low temperature use
STYLE: Includes in-line rubber seal for OptiMATE heavy duty SAE connector.
WARRANTY: 3-year limited replacement warranty