 OptiMate 2 DUO
MSRP €77.95
BRONZEN serie: 5-staps 12V / 12,8V 2A verzegelde lader & onderhouder
OptiMate 2 DUO, de krachtige "no brainer" acculader-onderhouder voor de hi-tech accu in al uw voertuigen – Garandeert gezonde lithium- of loodzuuraccu's!
Ideaal voor 12V-loodzuur- en 12,8V / 13,2V lithium LFP (LiFePO4) -accu's.
Levert 2 Ampère laadstroom aanbevolen voor het onderhoud van grotere accu's.

Laadt op en levert langdurig onderhoud –

Maak verbinding met de accu en de OptiMate 2 DUO doet de rest, geen toezicht vereist!
MEER EIGENSCHAPPEN:

Past zich automatisch aan Pb- of LFP-accu aan.

Veilig om verbonden te blijven. Volledige elektronische bescherming.

Handhaaft batterij op volledige lading & goede gezondheid.

Start met lage spanning van 4V.

Waarschuwt wanneer batterijschade wordt gedetecteerd.

Energiebesparende technologie
√ Stand-by vermogen minder dan 0,5W.
√ Efficiënt 24-7 accu-onderhoud.

Weerbestendig. Geschikt voor gebruik tot -40°C / -40°F.
Beschikbare modellen:
alle hieronder vermelde OptiMate-acculaders accepteren een wereldwijde input van 100 tot 240Vac (50 tot 60Hz), alleen het TYPE stekker is anders om te voldoen aan nationale/regionale wetten inzake elektrische veiligheid.
Koop
MSRP = Adviesprijs. Prijs in EUR en GBP is inclusief 20% btw. Btw in uw regio kan verschillen. Prijs in USD en CAD is exclusief omzetbelasting.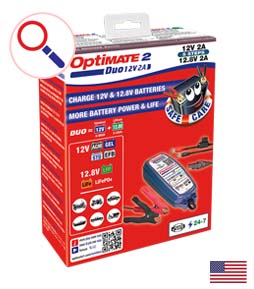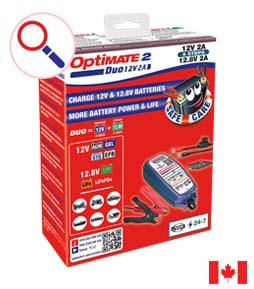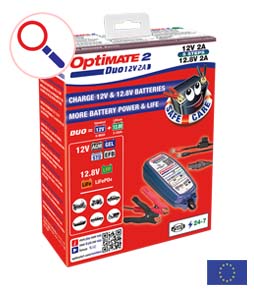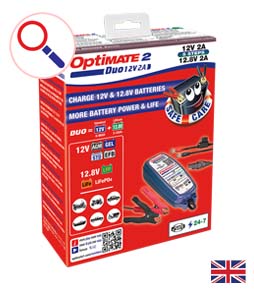 Specificaties
IDEAAL VOOR: AGM-, GEL- en STD-accu's van 12V van 6 – 96Ah // Lithium (LiFePO4) 12,8/13,2V-accu's van 2 – 24Ah
LAAD AMPÈRE: 2A (constante stroom)
LAADSPANNING: Nominaal: 12V & 12,8V bereik: 4V – 14.4V
WERKING:  Volledig automatisch
STAPPEN: 5

EIGENSCHAPPEN: Past zich automatisch aan de Pb- of LFP-accu aan. 24-7 veilig langdurig onderhoud.
GEBRUIK: Binnen / buiten (laagste temperatuur: -40°F / -40°C).
INVOER: Globaal (100-240V 50-60Hz), hoge efficiëntie (vermeld in CEC).
STIJL: Weerbestendige behuizing met wandbevestiging, met 6ft / 180cm AC voedingskabel en 6ft / 180cm laadkabel met SAE-aansluiting aan het uiteinde.
VEILIG: Geen risico op overladen. Helemaal veilig voor voertuigelektronica. Onderdrukt vonken. Veilig voor accu-onderhoud op de lange termijn. Automatische uitschakeling bij kortsluiting of ontkoppeling van de accu.
INBEGREPEN: Waterbestendige acculader en accuclipset
GARANTIE: 3 jaar beperkte vervangingsgarantie.