OptiMate CABLE O-29
MSRP $21.95
Adapter-verlengkabel, SAE naar BIKE 90°-stekker

De DIN / ISO 4165 standaard OptiMate BIKE-stekker past op 12V-aansluitingen van BMW-, Triumph- en Ducati Multistrada-motorfietsen en sommige scheeps- en landbouwuitrusting.

90° haakse aansluiting
–
laag profiel!

Zware OptiMate SAE-connector
–
past op alle standaard SAE-connectoren met 2 pinnen.
Premium specificaties
–
15 cm (6″) lang, 5 A continue stroom, kabel geschikt voor alle weersomstandigheden.
MEER EIGENSCHAPPEN:

Rubberen in-line afdichting beschermt de SAE-aansluiting.

Voor lage T° en gebruik buitenhuis.

Dikkere isolatie voor betere bescherming.

Stroomclassificatie: 5A gem. / 7A max.
Meer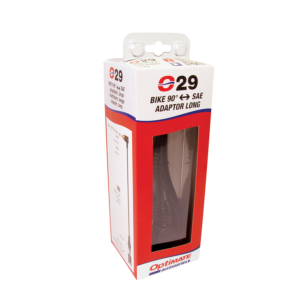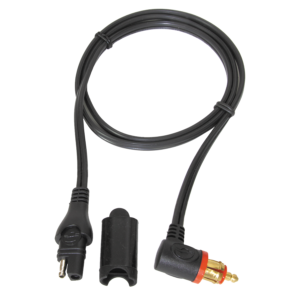 Video
Koop
MSRP = Adviesprijs. Prijs in EUR en GBP is inclusief 20% btw. Btw in uw regio kan verschillen. Prijs in USD en CAD is exclusief omzetbelasting.
Specificaties
Sluit uw in het voertuig ingebouwde elektronica of uw tanktas uitgerust met O-30-adapter aan op een aan de zijkant aangebrachte DIN-ingang van 12 mm Ø van BMW, Triumph, Victory of Honda GW.
Lengte=40 inch/100 cm
Afgedichte DIN-connector (van 12 mm doorsnee) met laag profiel
2-pins-SAE-connector conform de industrienorm
15A-zekering
Maximumkabelspanning: 5 Amp
Geschikt voor gebruik bij zeer lage temperaturen tot -40 °C/-40 °F, kabel blijft flexibel bij temperaturen tot "onder het vriespunt".
Inclusief ingebouwde rubberen afdichting voor OptiMATE SAE-connector voor zwaar gebruik. Hoogwaardige kabel ontworpen door TecMate. 3 jaar beperkte garantie.