OptiMate Lithium MONITOR O-127
MSRP €34.90
Permanente power sportaccukabel met geïntegreerd accustatus- / laadsysteemmonitor voor 12.8V / 13.2V lithium.
Met M6 / 1/4″ – M8 / 5/16″ ringen die perfect passen op powersport en de meeste automotive accupolen en 15A zekering die de -40 nominale kabel en elektronica beschermt – Premium kwaliteit! 
Gesloten monitor met 3 leds geven acculaadstatus aan van vol naar leeg voor 12,8V / 13,2V LiFePO4 / LFP accu's – De led die correspondeert met het laadniveau knippert iedere 5 seconden. 
SAE snelkoppelingslaadpoort voor het laden van de accu indien nodig – Met weerbestendige afdichtdop wanneer het voertuig rijdt! 
Toont de laadsysteemstatus wanneer de motor loopt, met 4 led-waarschuwing als het systeem wordt overbeladen boven 14,6V wat lithium kan beschadigen – Eenvoudige pre-ritcontrole in één oogopslag om te zien of de accu de juiste lading ontvangt. 

Meer
Video
https://youtu.be/7CaNSrqn1bU
KOOP
MSRP = Adviesprijs. Prijs in EUR en GBP is inclusief 20% btw. Btw in uw regio kan verschillen. Prijs in USD en CAD is exclusief omzetbelasting.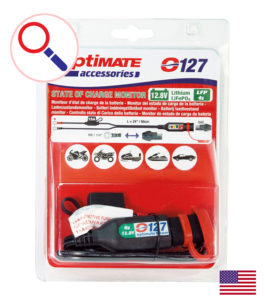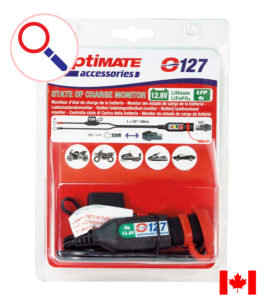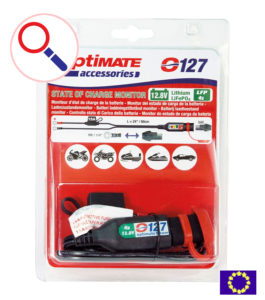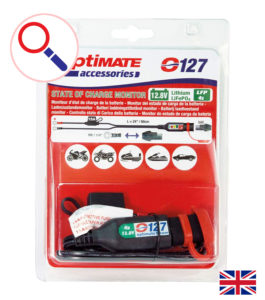 Specificaties
Slimme accu-monitor, controleer de laadstatus van een lithium LiFePO4 (LFP) startaccu van uw gestald voertuig of bevestig dat het laadsysteem correct functioneert.
LENGTE: 40″/100cm
ACCU CONNECTOR (INPUT): 1/4″ (M6)
LAAD CONNECTOR (OUTPUT): 2-pin SAE
OPERATION: Twee automatische modi – controle van het laadniveau van de accu (één knipperende led) en systeemtest tijdens laden (pijlmodus).
Tijdens Opslag voertuig: Drie leds tonen het spanningsbereik, van vol tot leeg, van 12.8V/13.2V lithiumaccu's (LFP/LiFePO4/lithium-nanofosfaat); de vierde led waarschuwt wanneer het systeem of de aangesloten acculader OVERLAADT! De led die overeenkomt met het laadniveau, knippert elke tien seconden (langdurige opname is minder dan 0,2mA).
Wanneer motor loopt: de LED pijlmodus wordt ingeschakeld wanneer de laadspanning binnen het ideale lithium laadbereik van 14.2V-14.5V ligt (√ groene led). De waarschuwing 'OVERLADEN' wordt geactiveerd bij meer dan 14.6V.
KABEL: SPT-2W 16 AWG (1.32mm2)
ZEKERING: 15 AmpGEBRUIK: Geschikt voor gebruik bij zeer lage temperaturen tot -40 °C/-40 °F, kabel blijft flexibel bij temperaturen tot "onder het vriespunt"
STYLE: Volledig gesloten electronicamodule met 4 LEDs, SAE laad-connector met waterdichte rubberen afkapping
GARANTIE: 3 jaar beperkte garantie.