OptiMate MONITOR O-128
MSRP €31.90
Permanente accukabel met geïntegreerde accustatus- / laadsysteemmonitor voor 12V lood-zuur.
Lange 100cm / 40″ lengte met M8 / 5/16″″ ringen die passen op een verscheidenheid aan accupolen, met 15A zekering die de -40 nominale kabel en elektronica beschermt – Premium kwaliteit! 
Gesloten monitor met 4 leds geven acculaadstatus aan van vol naar leeg voor 12V lood-zuur (AGM, GEL of STD) accu's – De led die correspondeert met het laadniveau knippert iedere 3 seconden!
SAE snelkoppelingslaadpoort voor het laden van de accu indien nodig – Met weerbestendige afdichtdop wanneer het voertuig rijdt! 
Toont de laadsysteemstatus wanneer de motor loopt – eenvoudige pre-ritcontrole in één oogopslag om te zien of de accu lading ontvangt. 

Meer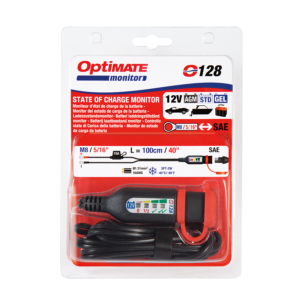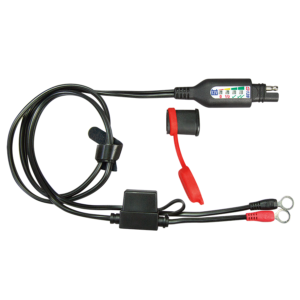 Video
https://youtu.be/YFu0eBgPE1g
Koop
MSRP = Adviesprijs. Prijs in EUR en GBP is inclusief 20% btw. Btw in uw regio kan verschillen. Prijs in USD en CAD is exclusief omzetbelasting.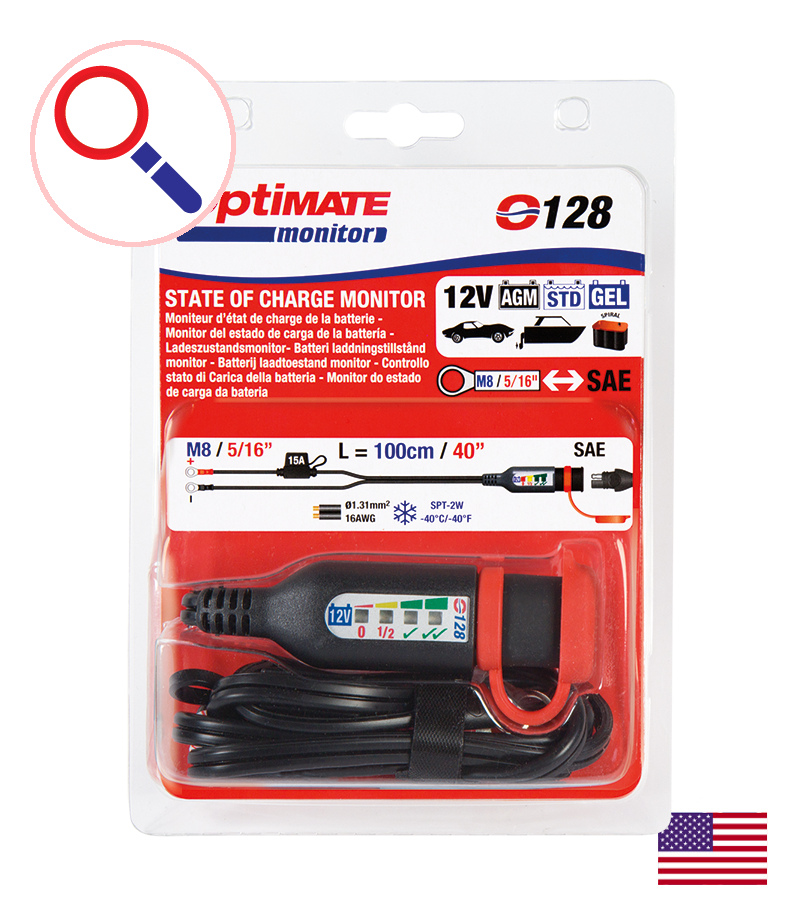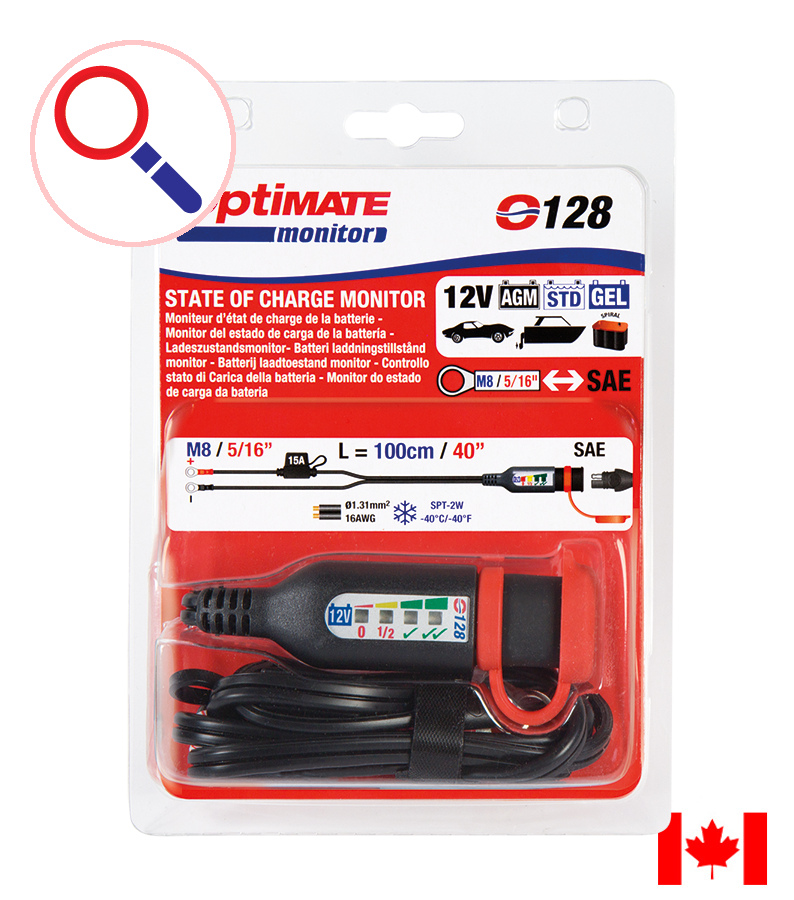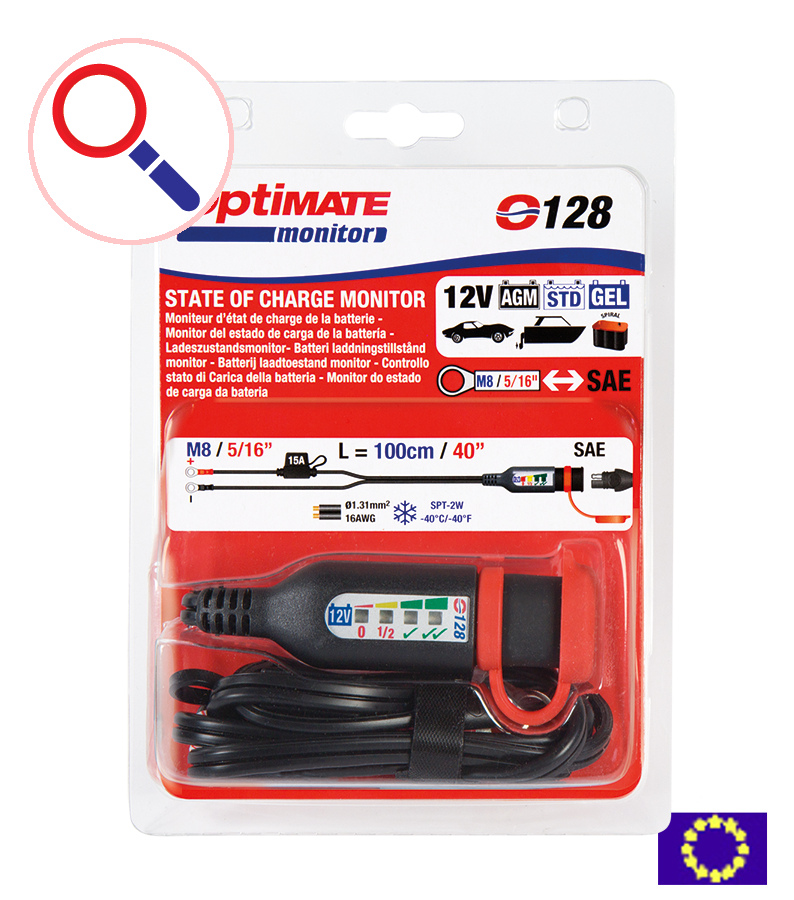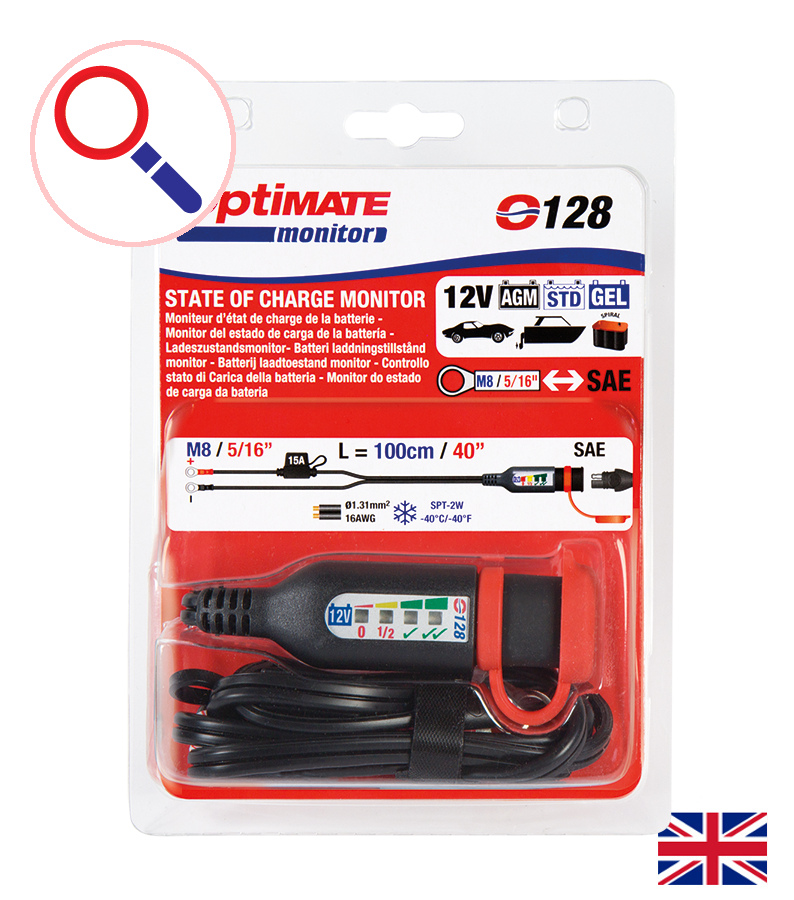 Specificaties
Slimme accu-monitor, controleer de laadstatus van een 'grotere' gestalde 12V-loodzuur accu en/of bevestig dat het laadsysteem van het voertuig correct functioneert.LENGTE: 40″/100cmACCU CONNECTOR (INPUT): 5/16" (M8)LAAD CONNECTOR (OUTPUT): 2-pin SAEOPERATION: Twee automatische modi – controle van het laadniveau van de accu (één knipperende led) en systeemtest tijdens laden (pijlmodus).
Tijdens Opslag voertuig: Vier leds tonen het spanningsbereik, van vol tot leeg, van alle 12V-accu's, met inbegrip van AGM-accu's met een hogere spanning (vierde √√ led ≥ 12,7 V), de LED die overeenkomt met het laadniveau, knippert elke 3 seconden (gebruik op lange termijn onder de 0.2mA).
Wanneer motor loopt: De LED-pijlmodus wordt ingeschakeld wanneer de laadspanning minstens 13.5V bedraagt (√ groene led) of binnen het ideale bereik van meer dan 14V ligt (√√ groene led).
KABEL: SPT-2W 16 AWG (1.32mm2)ZEKERING: 15 AmpGEBRUIK: Geschikt voor gebruik bij zeer lage temperaturen tot -40°C/-40°F, kabel blijft flexibel bij temperaturen tot "onder het vriespunt"STYLE: Volledig gesloten electronicamodule met 4 LEDs, SAE laad-connector met waterdichte rubberen afkappingGARANTIE: 3 jaar beperkte garantie.