OptiMate 1 DUO
MSRP $42.89
BRONZE series: 4-step 12V / 12.8V 0.6A battery charger & maintainer
OptiMate 1 DUO, the 'no brainer' battery maintainer for the hi-technology battery in your performance power sport vehicle – Guarantees healthy lithium or lead-acid batteries!
Ideal for 12V lead-acid & 12.8V / 13.2V lithium LFP (LiFePO4) batteries found in these vehicles.

Automatically adapts 

to the connected

 battery type 

– 
OptiMate 1 DUO does the thinking for you!

Charges and delivers long term maintenance automatically –

OptiMate 1 DUO makes your battery stronger and last longer, no supervision required!
Available models:
All OptiMate battery chargers listed below accept global input of 100-240Vac 50-60Hz, only the power plug TYPE is different to comply with national / regional electrical safety laws.
More
More features:

Adapts automatically to Pb or LFP battery.

Safe to leave connected. Full electronic protection.

Maintains battery at full charge and good health.

Low Volt Start of 4V.

Energy saving technology.
√ Stand-by power less than 0.5W.
√ Efficient 24-7 battery maintenance.

Dustproof. Rated for indoor use down to -20°C / -4°F.

Includes 2 interchangeable battery connection accessories.
FAQ
VIDEO Answers:
Can OptiMate 1 DUO charge both a 12V lead-acid and a 12.8V Lithium battery?
Why is the yellow and green LEDs alternating?
BUY
MSRP = Manufacturer Recommended Retail Pricing. Price in EURO and GBP include VAT of 20%. VAT in your region may differ. Price in USD and CAD do not include sales tax.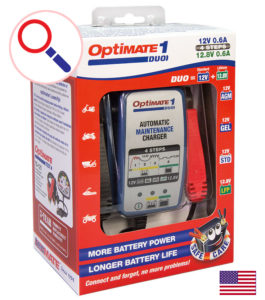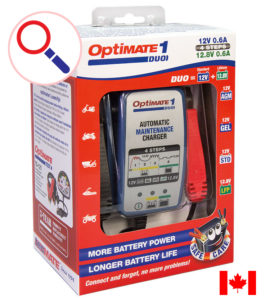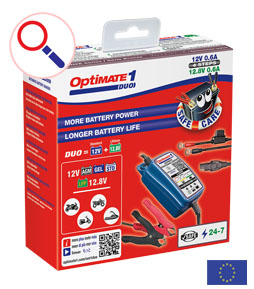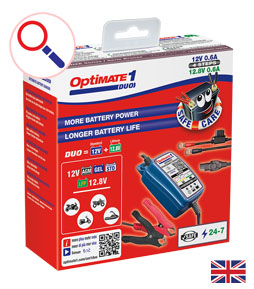 Specifications
IDEAL FOR: AGM, GEL & STD 12V batteries & Lithium (LiFePO4) 12.8/13.2V batteries from 2 – 20Ah
CHARGING AMPS: 0.6A (constant current)
CHARGING VOLTS: nominal: 12V & 12.8V range: 4V – 14.4V
OPERATION:  Fully automatic
STEPS: 4

FEATURES: Low Volt Start step adjusts charge parameters to match battery type; 24-7 safe long term maintenance.
USE: Indoor (lowest temperature: -4°F / -20°C).
INPUT: Global (100-240V 50-60Hz), high efficiency (CEC listed).
STYLE: Dust proof plug-in case, with 12ft / 370cm charge lead ending in SAE connector.
SAFE: No risk of overcharging. Totally safe for vehicle electronics. Sparks suppressed. Safe for long-term battery maintenance. Automatic shut-down if short-circuited or battery disconnected.
INCLUDED: Weatherproof battery lead & battery clip set.
WARRANTY: 3-year limited replacement warranty.