OptiMate DC to DC
MSRP $104.95
6-step 12V/12.8V 2A sealed DC to DC battery saving charger & maintainer
OptiMate DC-DC 12V 2A, the ideal off-grid charger and maintainer for your 12V lead-acid or 12.8V LifePO4 / LFP Lithium battery, that draws power from another 12V battery – No AC power required!
Powered from a 12V – 16V DC source, including a 12V / 12.8V battery, 12V 50W DC power supply or 12V vehicle system.
Automatically charge and maintain your 12V lead-acid (AGM, GEL or STD) battery or your 12.8V / 13.2V LiFePO4 / LFP battery.
The ideal jump charger for your dead flat battery or to reset your Lithium battery's BMS – Re-activates and SAVES your battery!
The safe off-grid recovery choice for flat lithium batteries, includes BMS wake up pulse – Safely brings Lithium back to full charge!
Protects source battery from total discharge; low power LED warning and low voltage shut-down.
OptiMate off-grid 24-7 maintenance with sleep / monitor mode – Prolonged 24-7 maintenance of your stored vehicle's battery!
FAQ
As a safety measure the OptiMate DC to DC has battery protection built in, meaning it will not charge if the source battery has a voltage lower than 11V.
Also, if already connected to the source battery, after one minute, the OptiMate DC to DC turns off if not connected to the battery that needs charging. To re-start, disconnect from the source battery and then once again reconnect.
Source battery capacity (in Ah) should ideally be 1.5 times higher than the battery to be charged. E.G. to recharge a flat 10Ah battery, you need a 15Ah source battery. The 12V SOURCE BATTERY should ideally be rated for deep cycle use.
You can use any type of 12V-16V lead-acid/LFP battery as the source battery.
BUY
MSRP = Manufacturer Recommended Retail Pricing. Price in EURO and GBP include VAT of 20%. VAT in your region may differ. Price in USD and CAD do not include sales tax.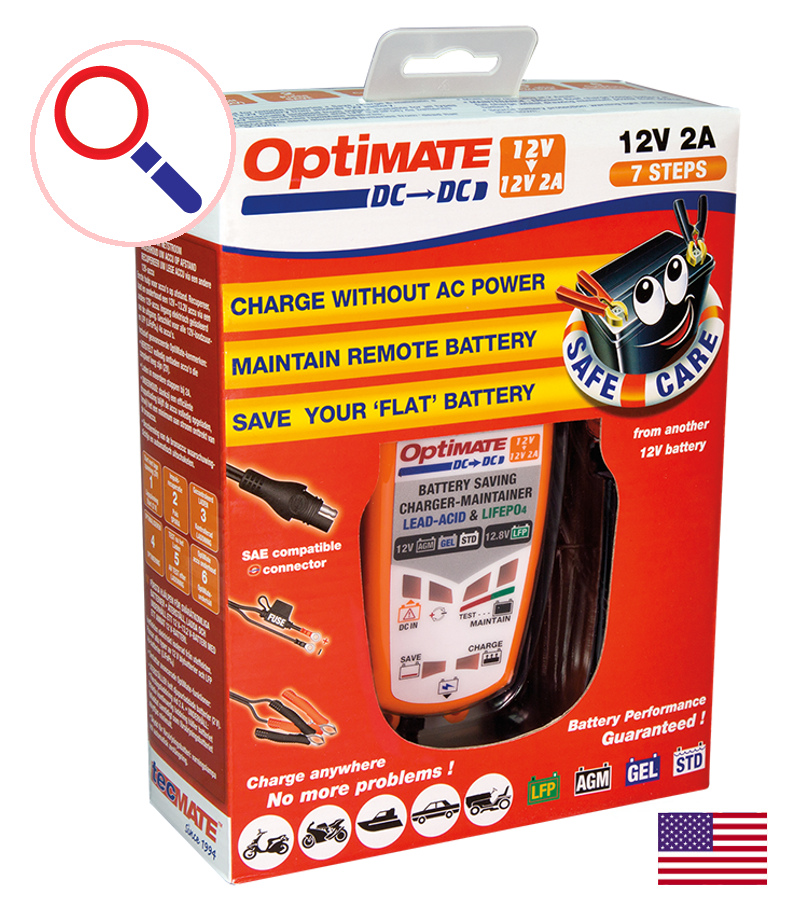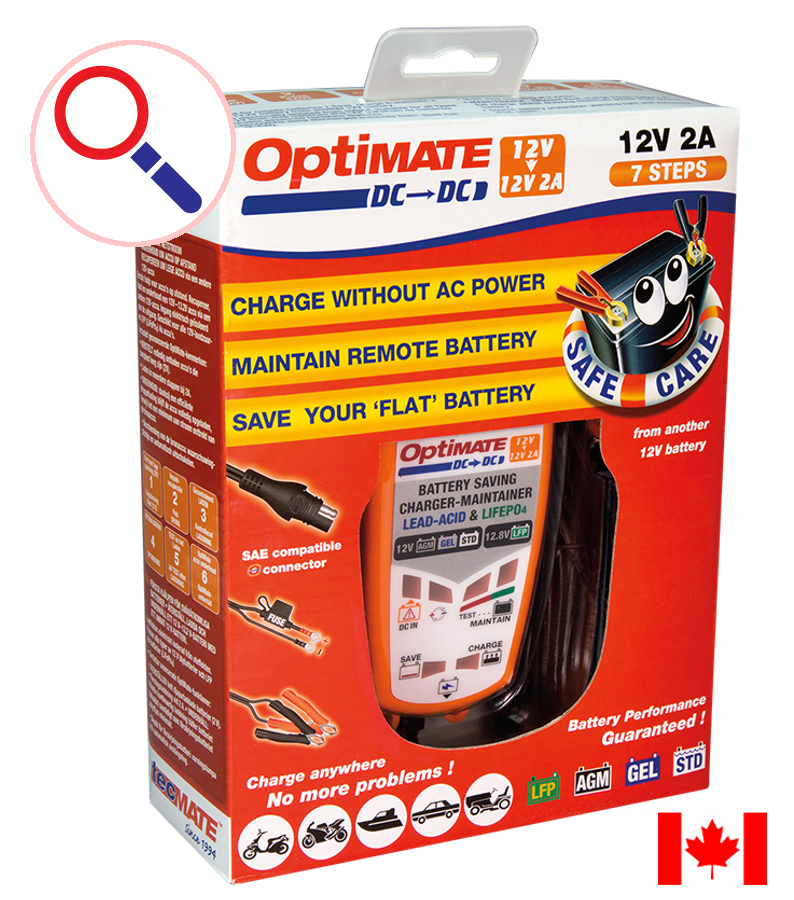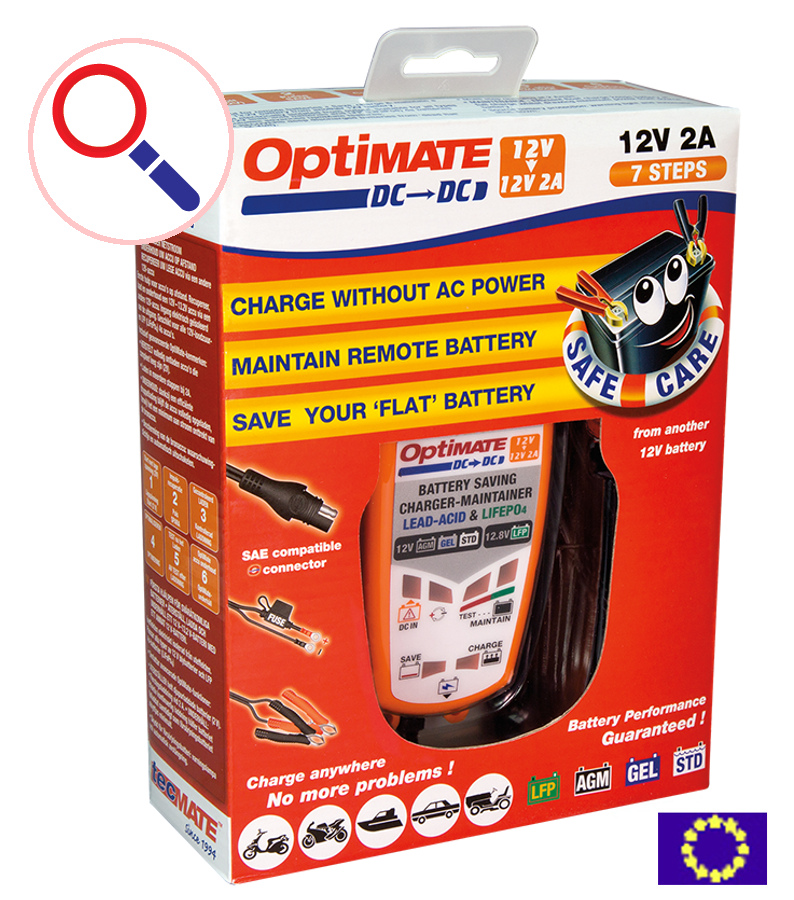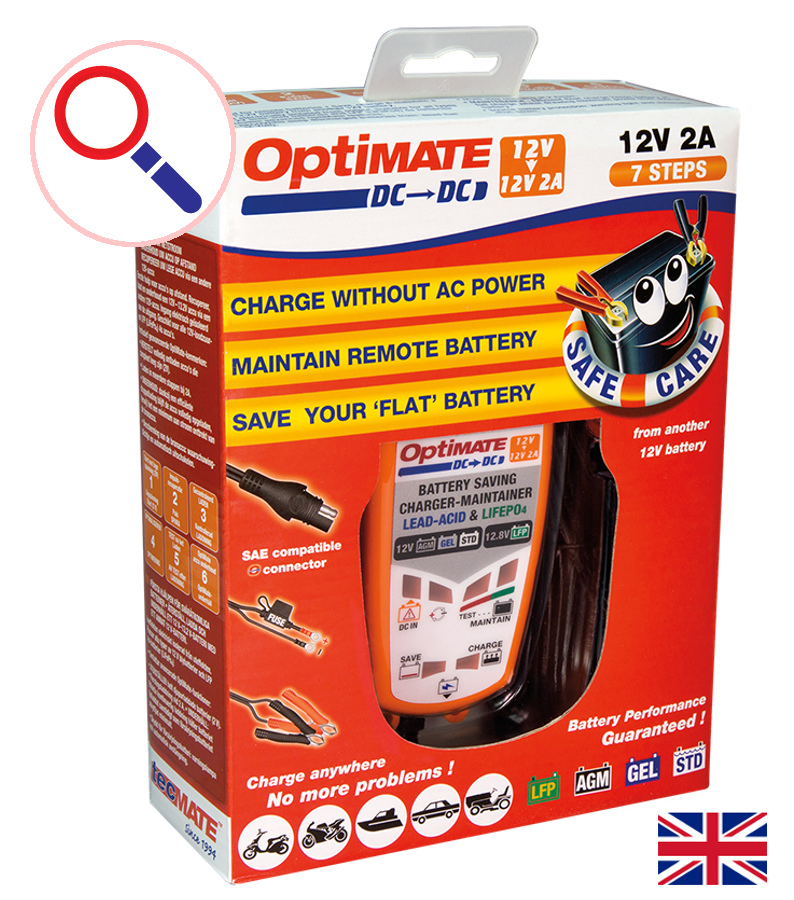 Specifications
IDEAL FOR:  STD, AGM & GEL 12V batteries from 6Ah and LiFePO4 (LFP) 12.8V/13.2V batteries from 2Ah.
CHARGING AMPS: 2A (constant current)
CHARGING VOLTS: nominal: 12V & 12.8V range: 2V – 14.4V
OPERATION:  Fully automatic
STEPS: 6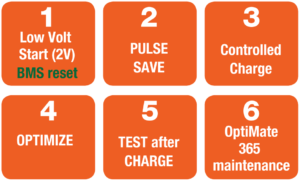 FEATURES: CHARGE YOUR 12V (Lead Acid) or 12.8V- 13.2V (LFP-Lithium) BATTERY FROM ANOTHER 12V BATTERY! NO AC POWER REQUIRED. Ideal for both lead-acid and LFP (LiFePO4) batteries.
USE: Indoor (lowest temperature: -4°F / -20°C).
INPUT : 12-16 V, 2.7A max. With source battery protection > low battery warning light and automatic shut-down.
STYLE: Weatherproof case with wall mounts, with 6ft / 180cm AC supply lead and 6ft / 180cm charge lead ending in SAE connector.
SAVE : Low Volt Start of 2V
SAFE: Input electrically isolated from output. No risk of overcharging. Totally safe for vehicle electronics. Sparks suppressed. Safe for long-term battery maintenance. Automatic shut-down if short-circuited or battery disconnected.
INCLUDED: Fused battery clip set, standard battery clip set & weatherproof battery lead.
WARRANTY: 3-year limited replacement warranty.
How it works: As simple as 1-2-3!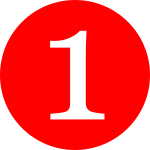 Attach the fused clip set to the short input cable (side marked 12 – 16V) and then connect the OptiMate DC to DC to a charged source battery e.g. your vehicle's 12V battery.  The OptiMate DC to DC's SAVE and CHARGE LEDs will blink together for 1 minute, indicating it is ready to charge a battery.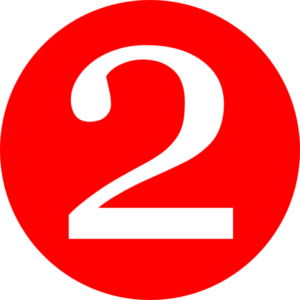 Within 1 minute* connect the output charge lead to the battery requiring charge, using the standard clip set or connect directly to the battery that may have the weatherproof battery lead already pre-wired. Charging proceeds when the SAVE or CHARGE LED turn full on.    *After 1 minute the OptiMate DC to DC turns off if not connected to the battery that needs charging. To re-start, disconnect from the source battery and then once again reconnect.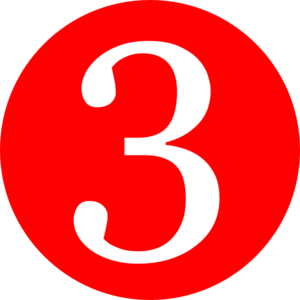 Wait until the green TEST LED blinks. 'First Aid' charging has been completed! Leave the charger connected for '365' long term maintenance.