OptiMate CABLE O-11
MSRP $14.95

Ideal for battery terminals that mount onto round battery posts, or batteries with built-in bolt terminals.

Adaptable dual ring technology fits any battery terminal
–
Ring terminal default size is M8 (5/16"), adaptable to M10 (3/8").

Protected SAE connector –

rubber cap and sheath prevent water / dirt ingress & zip-tie slits allow for 'out of harm's way' securement.

Premium specifications – 50cm (20") length, 15A fuse, -40° rated cable, 10A (13A max) current rating, standard SAE charge connector.
MORE FEATURES:
Additional black cap.

Thicker insulation for better protection.

Current rating: 10A ave. / 13A max.

Rated for low T° and outdoor use.
Video
More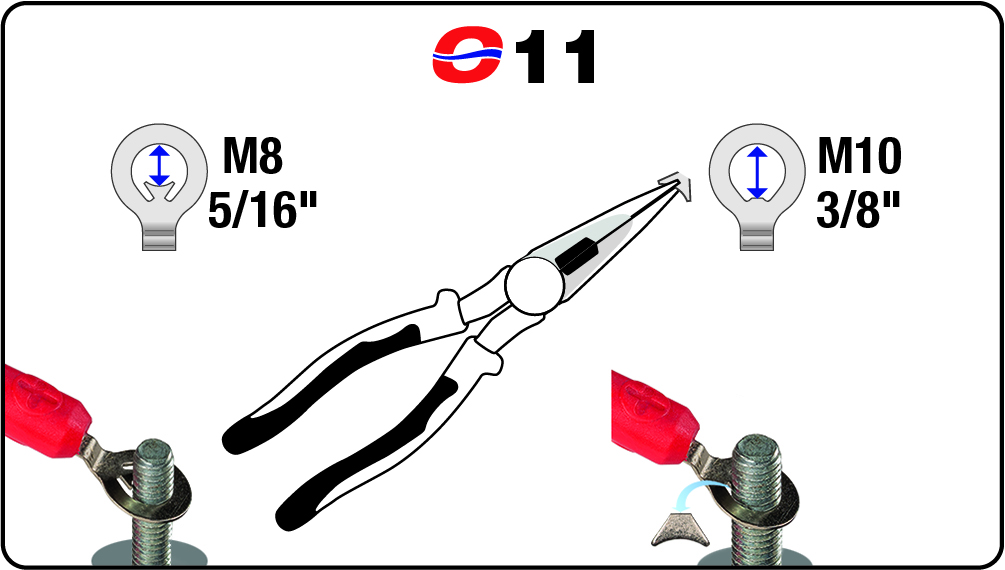 BUY
MSRP = Manufacturer Recommended Retail Pricing. Price in EURO and GBP include VAT of 20%. VAT in your region may differ. Price in USD and CAD do not include sales tax.
Specifications
Premium quick connect permanent battery lead for auto/marine batteries, with weather protected connection system and cable.
LENGTH: 20″/50cm
CONNECTORS: 5/16″ (M8) / 3/8" (M10) Ringlets to SAE
CABLE RATING: 16AWG (1.31mm2) SPT-2W
FUSE: 15 Amp
USE: -40°C/-40°F very low temperature, remains flexible at 'below freezing' temperatures.
STYLE: Rubber sealing cap & shroud for OptiMate heavy duty SAE connector.
WARRANTY: 3-year limited replacement warranty