OptiMate CABLE O-13
MSRP $19.95
The longest premium extender for powersport vehicles
– Length = 460cm / 15ft


Rated for 5 Amp continuous use.

Corrosion protected
–
Nickel coated contacts.

MORE FEATURES:

Rubber in-line seal protects SAE connection against dirt and water, keeping the SAE connection clean.

Rated for low °t and outdoor use.

Thicker insulation for better protection.

Current rating: 5A ave. / 7A max.
Video
More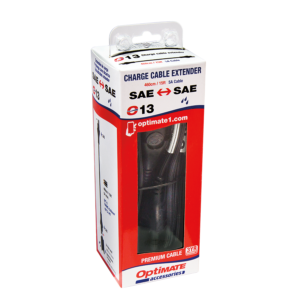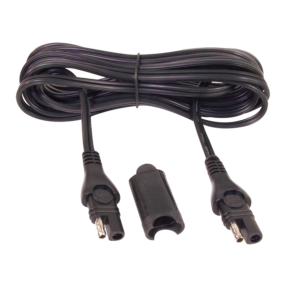 BUY
MSRP = Manufacturer Recommended Retail Pricing. Price in EURO and GBP include VAT of 20%. VAT in your region may differ. Price in USD and CAD do not include sales tax.
Specifications
5 Amp charger lead extender with weather/dirt protected SAE connection system.
LENGTH: 15ft/460cm
CONNECTORS:  SAE to SAE
CABLE RATING: 18AWG (0.82mm2) SPT-2
USE: -20°C/-4°F low temperature use
STYLE: Includes in-line rubber seal for OptiMATE heavy duty SAE connector.
WARRANTY: 3-year limited replacement warranty