OptiMate CABLE O-14
MSRP $16.95
Battery Clips with fuse, powersport


Heavy duty SAE connector with standard polarity works with all battery chargers.

Easy grip rubber handles.

Premium specifications
–
50cm (20") length, 15A fuse, -40° rated cable, 10A (13A max) current rating, standard SAE charge connector.
MORE FEATURES:

Rubber in-line seal protects SAE connection.

Rated for low °t and outdoor use.

Thicker insulation for better protection.

Current rating: 10A ave. / 13A max.
More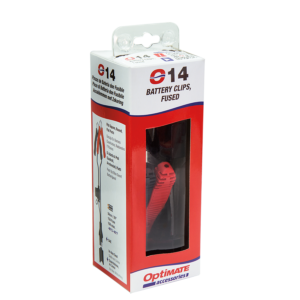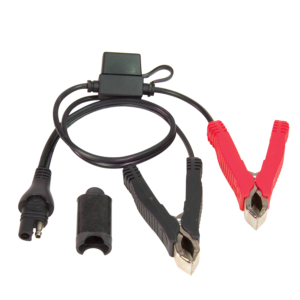 BUY
MSRP = Manufacturer Recommended Retail Pricing. Price in EURO and GBP include VAT of 20%. VAT in your region may differ. Price in USD and CAD do not include sales tax.
Specifications
Battery clips with 15A fuse, with 'easy grip' rubber handles, custom designed to fit round, square (power sport) and flat tab posts.
LENGTH: 20″/50cm
CONNECTORS:  Battery clips to SAE
CABLE RATING: 16AWG (1.31mm2) SPT-2W
FUSE: 15 Amp
USE: -40°C/-40°F very low temperature, cable remains flexible in 'below freezing' temperatures.
STYLE: Includes in-line rubber seal for OptiMATE heavy duty SAE connector.
WARRANTY: 3-year limited replacement warranty