OptiMate CABLE O-19
MSRP $19.95
Adapter, SAE to BIKE 90° plug

The DIN / ISO 4165 standard OptiMate BIKE plug fits 12V sockets of BMW, Triumph & Ducati Multistrada motorcycles and some marine and agricultural equipment.

90° angled connection
–
low profile!

Heavy duty OptiMate SAE connector
–
mates with all standard SAE 2-pin connectors.
Premium specifications
–
15cm (6") length, 5A continuous current rating, all-weather cable rating.
MORE FEATURES:

Rubber in-line seal protects SAE connection.

Rated for low °t and outdoor use.

Thicker insulation for better protection.

Current rating: 5A ave. / 7A max.
Video
More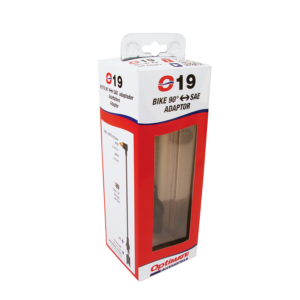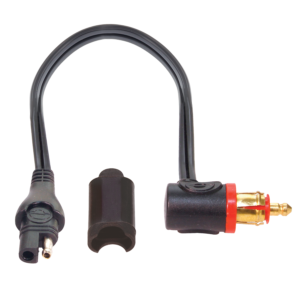 BUY
MSRP = Manufacturer Recommended Retail Pricing. Price in EURO and GBP include VAT of 20%. VAT in your region may differ. Price in USD and CAD do not include sales tax.
Specifications
Connect your battery charger or your tankbag fitted with O-30 adapter, to a Ø12mm DIN power socket found on BMW, Triumph, Victory, selected Honda Gold Wing motorcycles and John Deere ATVs.
LENGTH: 6″/15cm
CONNECTORS: Low profile Ø12mm DIN / BIKE 90° plug to SAE
CABLE RATING: 18AWG (0.82mm2) SPT-2W
USE: -40°C/-40°F very low temperature, cable remains flexible in 'below freezing' temperatures.
STYLE: Includes in-line rubber seal for OptiMATE heavy duty SAE connector.  * Low profile BIKE 90° plug replaces straight 180° plug.
WARRANTY: 3-year limited replacement warranty