OptiMate MONITOR O-128
MSRP $24.95
Permanent battery lead with integrated battery status / charge system monitor for 12V lead-acid

.
Longer 100cm / 40″ length with M8 / 5/16″″ ringlets that fit a variety of battery terminals, with 15A fuse that protects the -40 rated cable and electronics – Premium quality!
Sealed monitor with 4 LEDs indicate battery state of charge from full to empty for 12V lead-acid (AGM, GEL or STD) batteries – LED corresponding to charge level blinks every 3 seconds.
SAE quick connect charge port for charging battery when needed – With weatherproof sealing cap when vehicle is moving!
Displays charge system status when engine is running – Easy pre-run check at a glance to see if battery is receiving charge.

More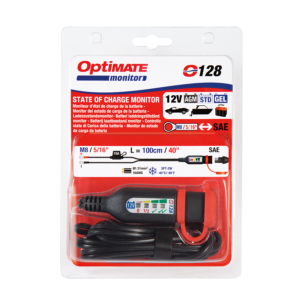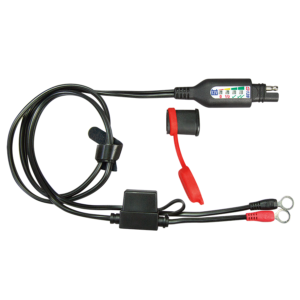 Video
BUY
MSRP = Manufacturer Recommended Retail Pricing. Price in EURO and GBP include VAT of 20%. VAT in your region may differ. Price in USD and CAD do not include sales tax.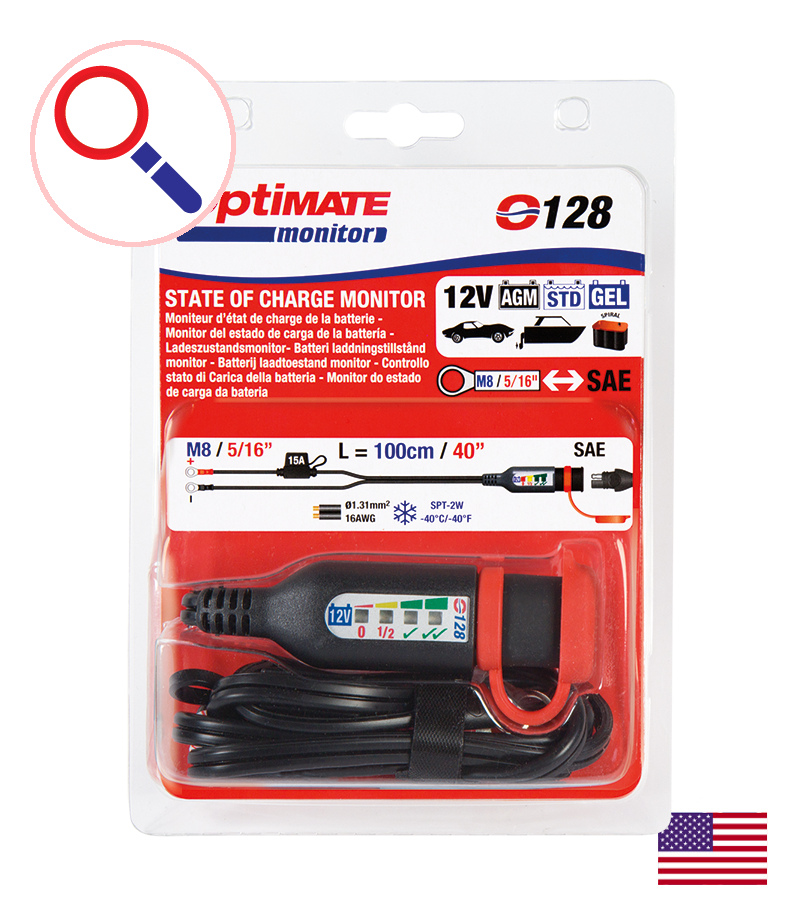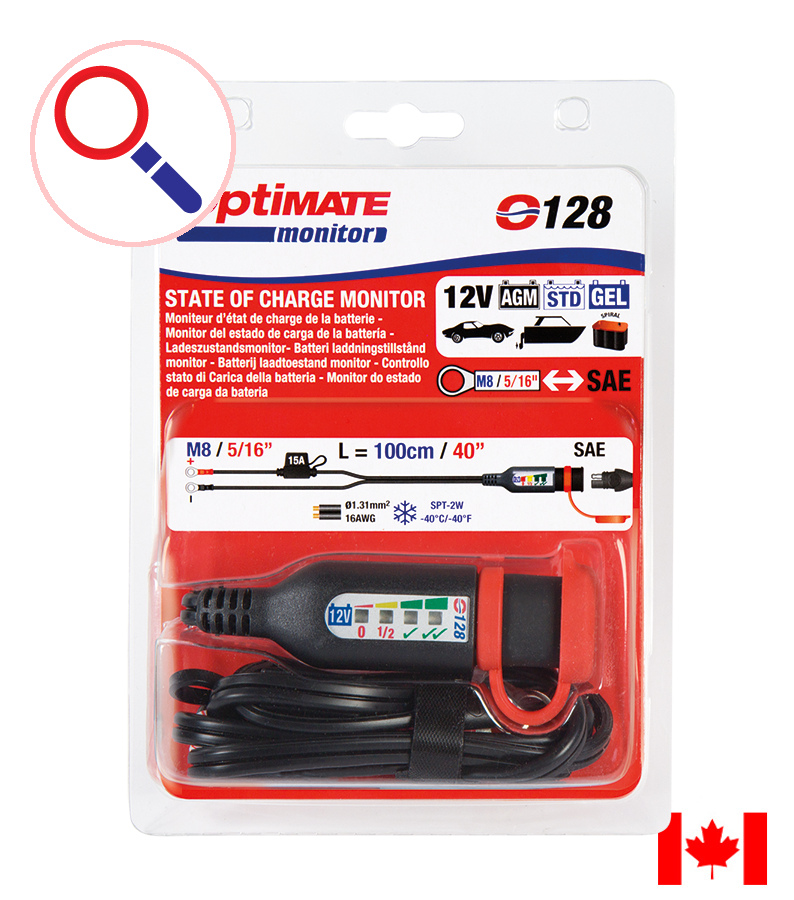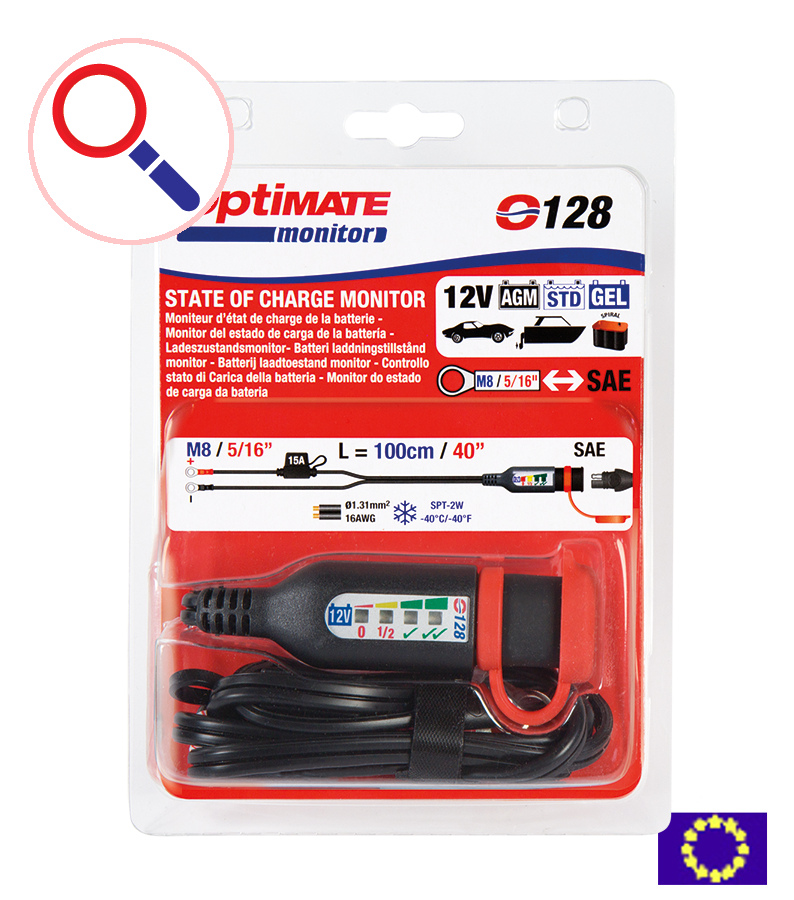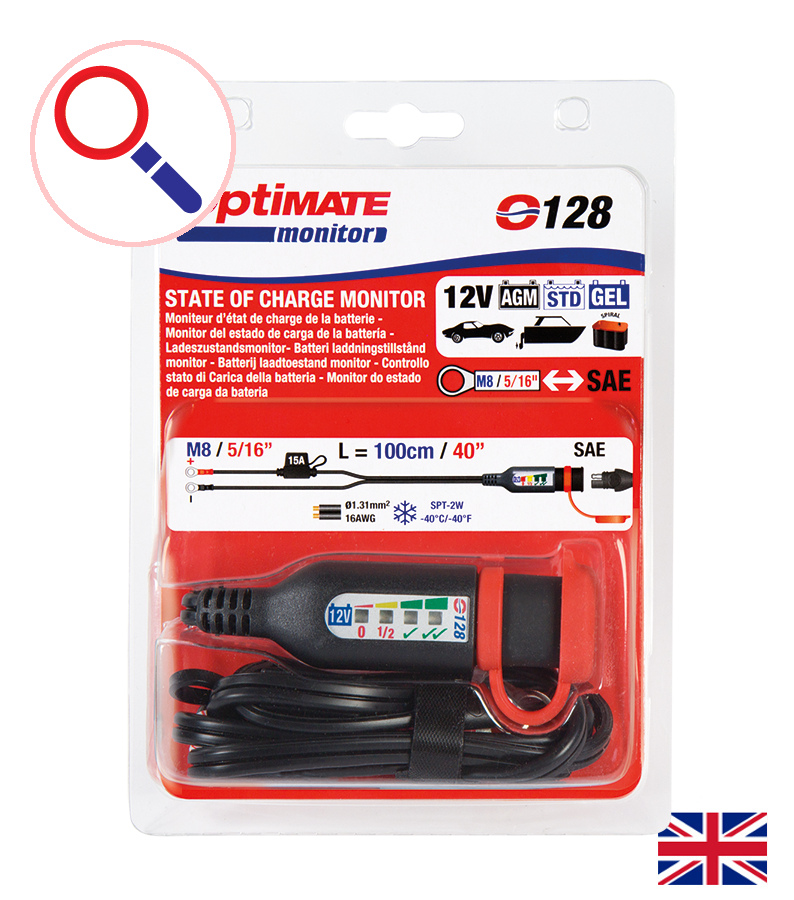 Specifications
Smart battery lead that measures voltage; monitors charge of a 'larger' stored 12V lead-acid battery and confirms if the vehicle charging system is working correctly.
LENGTH: 40″/100cm
BATTERY CONNECTOR: 5/16" (M8) ringlets
CHARGE CONNECTOR: 2-pin SAE, protected from dirt and liquid with rubber sealing cap and shroud.
OPERATION: 2 automatic Modes – Battery charge level monitor (single LED blink mode) & Charging system test (arrow mode).
Vehicle storage: 4 LEDs cover 'full to empty' voltage range of all 12V batteries, including higher voltage AGM for power sport (4th √√ LED ≥ 12.7V ). LED matching charge level blinks every 3  seconds (long term draw less than 0.2mA).
Vehicle running: LED arrow mode activates when charge voltage reaches ideal charging voltage; up to minimum 13.5V (√ green LED) or ideal range 14V+ (√√ green LED).
CABLE RATING: 16 AWG (1.31mm2) SPT-2W
FUSE: 15 Amp
USE: -40°C/-40°F very low temperature, remains flexible at 'below freezing' temperatures
STYLE: Fully enclosed electronic circuitry with 4 LEDs, SAE charge connector with rubber sealing cap & shroud
WARRANTY: 3-year limited replacement warranty