OptiMate 3 x 4 BANK
MSRP $249.89
7-step 4x12V 0.8A sealed battery saving charger & maintainer
Optimate 3 Quad bank, the fully sealed 4-bank battery saving charger & maintainer for 12V AGM, GEL or STD batteries – The dealer's choice for busy workshops.
OptiMate 3 chargers are trusted by global motorcycle OEMs, including Honda, Triumph, Suzuki, Yamaha, Kawasaki and more.
Independently charge, test and maintain 4 x 12V lead-acid (STD, AGM, GEL) batteries – always fresh, always ready!


Saves 'dead flat' sulphated batteries from as low as 2V.

Tests automatically – indicates if there is a battery problem

OptiMate's 24-7 smart maintenance guarantees more battery power, longer battery life!
Available models: All OptiMate battery chargers listed below accept global input of 100-240Vac 50-60Hz, only the power plug TYPE is different to comply with national / regional electrical safety laws.
More
Includes 4x  
In store packaging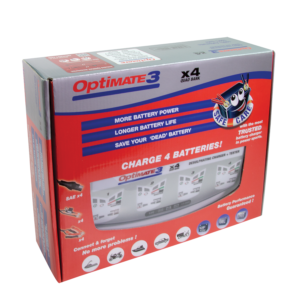 BUY
MSRP = Manufacturer Recommended Retail Pricing. Price in EURO and GBP include VAT of 20%. VAT in your region may differ. Price in USD and CAD do not include sales tax.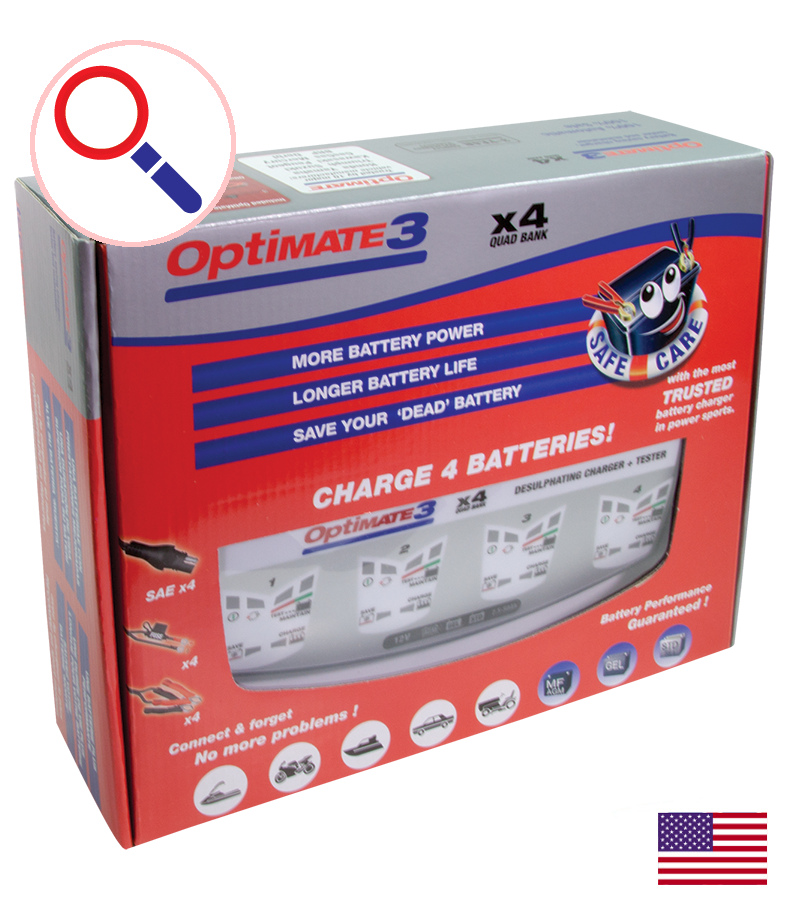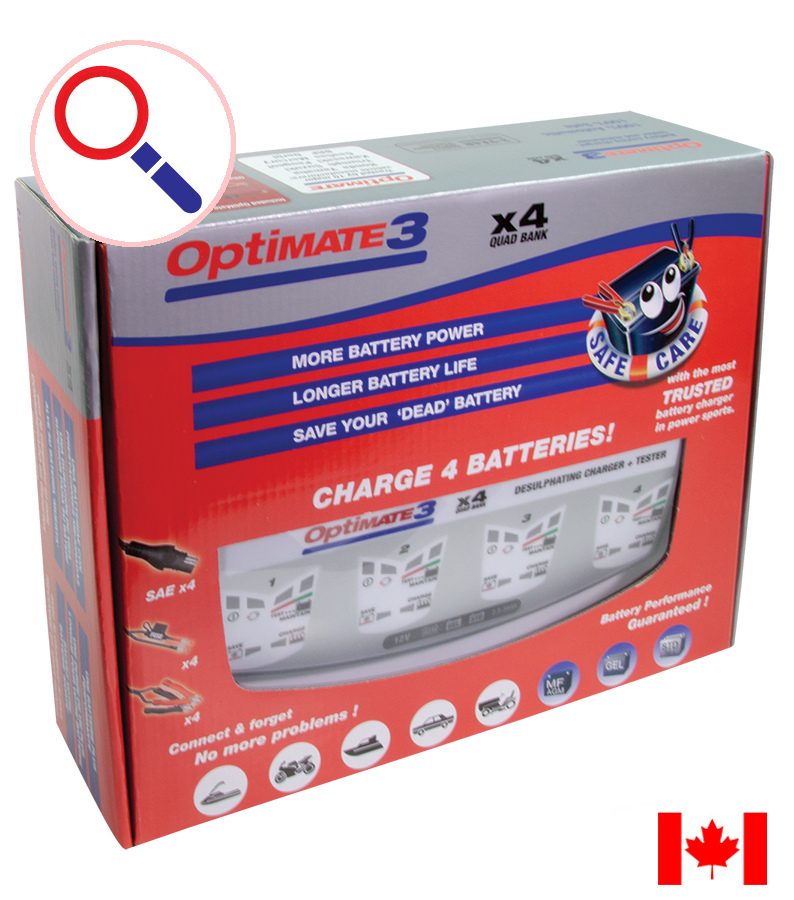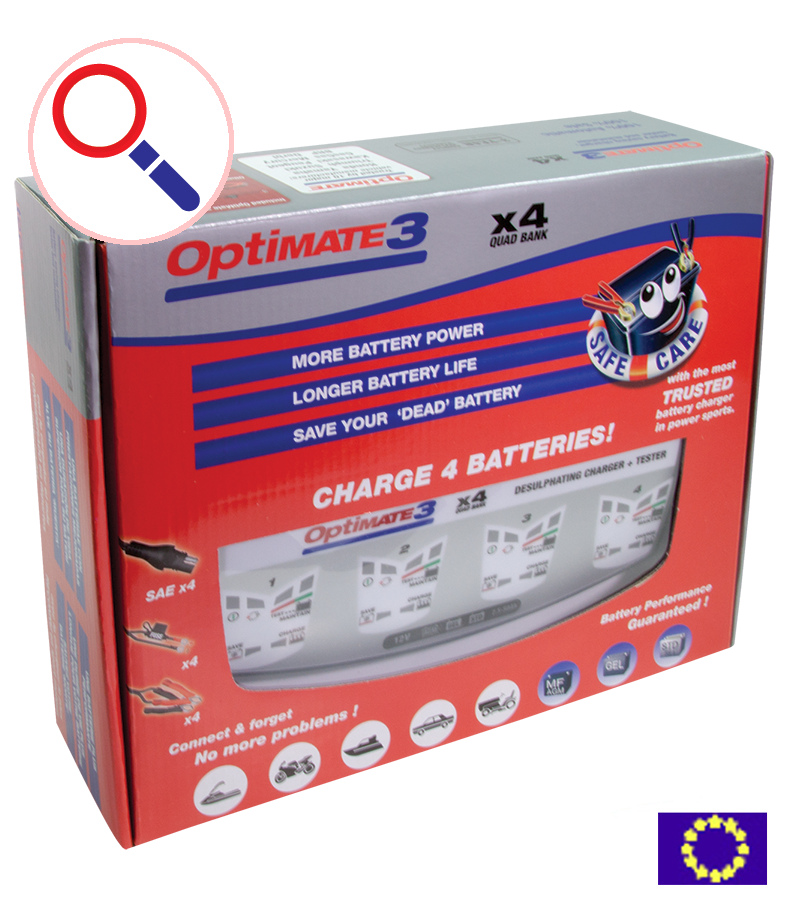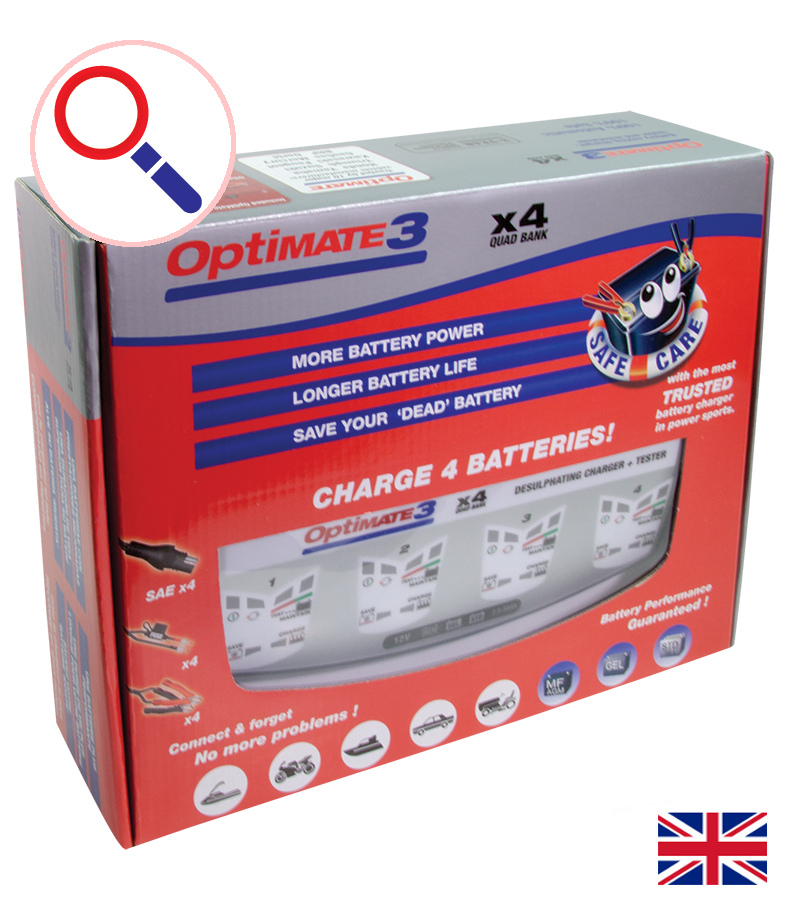 Specifications
IDEAL FOR: 4X AGM, GEL & STD 12V batteries from 3 – 40Ah
CHARGING AMPS: 0.8A (constant current, per bank)
CHARGING VOLTS: nominal: 12V range: 2V – 14.4V
OPERATION:  Fully automatic
STEPS: 7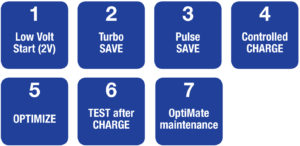 FEATURES: The all-in-one tool for 4x 12V battery care. Diagnoses, recovers, charges, tests and optimally maintains, automatically.
USE: Indoor / Outdoor  (lowest temperature: -4°F / -20°C).
INPUT: Global (100-240V 50-60Hz), high efficiency (CEC listed).
STYLE: Weatherproof case with wall mounts, with 6ft / 180cm AC supply lead and 4 x 6ft / 180cm charge lead ending in SAE connector.
SAVE : Low Volt Start of 2V + 2 step desulphation recovery.
SAFE: No risk of overcharging. Totally safe for vehicle electronics. Sparks suppressed. Safe for long-term battery maintenance. Automatic shut-down if short-circuited or battery disconnected.
INCLUDED: 4x weatherproof battery lead & 4x battery clip set.
WARRANTY: 3-year limited replacement warranty.